Welcome to Rotary Club of Shreveport
We are now having meetings at the downtown Hilton Hotel restaurant with a limit of 50 participants. Contact the Rotary office at 318-294-8385 to receive an invite via EventBrite. The Zoom option remains available for those not attending in person.
Club on-line meetings, by ZOOM, began on Tuesday, April 7, 2020 at 12:00 noon. Every club member will receive an invitation, by email, with a link to join the meeting. A separate dedicated email will be sent for each meeting. Contact shreveportrotary@gmail.com if you are a member and have not received an invite. If you are a guest or visiting Rotarian, contact shreveportrotary@gmail.com to request the link.
Our Beginnings:
On Friday, February 6, 1914, thirteen Shreveport men gathered at the Youree Hotel, at the urging of John B. Yauger. Various professions and businesses were represented. The thirteen men that attended established a unique meeting time of the club, 12:13 p.m., which is still in effect today. These thirteen men unanimously agreed to the formation of the Rotary Club of Shreveport. The club was officially chartered with the then International Association of Rotary Clubs (now Rotary International) as Club #109 on April 1, 1914.
Over 100 years later:
We are one of the large executive clubs in the world. From one of our first projects in World War I supporting patriotic activities to our present day projects, we continue to make a difference in the community. In addition, our members' individual contributions to the End Polio campaign with The Rotary Foundation now exceed $1 million.
The Present and into the Future:
Our Club is proud of past projects like Rotary Hall at Centenary College and Rotary Park. In the Rotary year 2017-2018 our members selected a proposal to partner with other local organizations to create the Rotary Learning Bus. Be on the watch for our Rotary Learning Bus to be traveling in our local area.
Community Leaders Solving Community Problems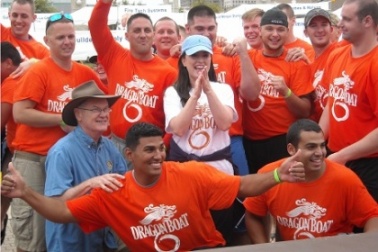 Current projects:
Local non-profit partner organizations - civic grants

Rotary Learning Bus
Rotary Centennial Umbrellas at Shreveport Water Park
Primary Education - support several projects
Sponsor blood drives with LifeShare Blood Center
Hunger - Food Bank projects
Homelessness - Rescue Mission projects
Youth leadership - Sponsor several events
Sponsor Rotaract Club of Bossier Parish Community College
Higher Education - Scholarships
Agriculture - Support several events